After a few decades of marriage, my mother lost her lifelong partner to terminal cancer.  Even though we knew the day was coming, no one in the family somehow expected it when it finally came.  
I was actually the only one in the room with him when he left this world.  There was no fanfare, no dramatic "Time of death" announcement ala Hollywood.  I'd run out into the hallway, looking for help, belatedly realizing it was useless.  
After my family arrived, mother spent a few minutes holding father's hand, stroking his cheek, smoothing his hair.  I remember frigidly refusing to touch him, not wanting to let my fingers feel what I could see, the lack of life and continuation of breath.  I could not, would not associate that wax like figure with the energetic man who raised me, taught me sports, and strong-armed his values into my head.  
In the aftermath, mother realized she had never said the words " I love you."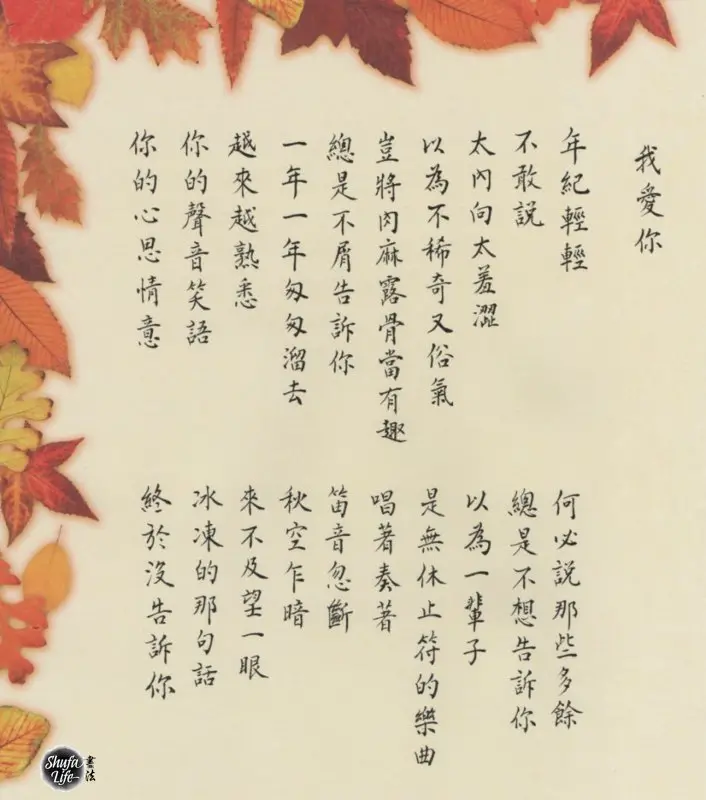 "I Love You" - original poem,  Style of Calligraphy: Standard 楷書 ( 楷书kǎishū)
English Translation
I Love You
In youth
Afraid to say
Too introverted too bashful
Thought it was not unique and a little tacky
As if being nauseating and transparent was simply funny 
Always not worth telling you
Year after year quickly passes
More and more familiar
Your voice and laughter
Your thoughts and feelings
Why say anything redundant
Always rather not tell you
Thought in this lifetime
Imagined our song would be endless without break
Singing and performing
The flute's song suddenly ends
Autumn sky fades to dusk
No time to see
That frozen sentence
In the end never spoken
Simplified Chinese
我爱你
年纪轻轻
不敢说
太内向太羞涩
以为不稀奇又俗气
岂将肉麻露骨当有趣
总是不屑告诉你
一年一年匆匆溜去
越来越熟悉
你的声音笑语
你的心思情意
何必说那些多余
总是不想告诉你
以为一辈子
是无休止符的乐曲
唱着奏着
笛音忽断
秋空乍暗
来不及望一眼
冰冻的那句话
终于没告诉你
Pinyin (Sound)
Wǒ ài nǐ
niánjì qīng qīng
bù gǎn shuō
tài nèixiàng tài xiūsè
yǐwéi bù xīqí yòu súqì
qǐ jiāng ròumá lùgǔ dāng yǒuqù
zǒng shì bùxiè gàosu nǐ
yī nián yī nián cōngcōng liū qù
yuè lái yuè shúxī
nǐ de shēngyīn xiàoyǔ
nǐ de xīnsī qíngyì
hébì shuō nàxiē duōyú
zǒng shì bùxiǎng gàosu nǐ

yǐwéi yībèizi
shì wú xiūzhǐfú de yuèqǔ
chàngzhe zòuzhe
dí yīn hū duàn
qiūkōng zhà àn
láibují wàng yīyǎn
bīngdòng dì nà jù huà
zhōngyú méi gàosu nǐ
Love is not always easy.  It comes with peaks and valleys, joys and regrets.  Though sometimes it's unspoken, it lives on, beyond that last breath.
You can help support her by purchasing chinese calligraphy paintings for sale