Leave it to the Taiwanese to merge the digital world with the ancient art of Chinese calligraphy!  This summer, the National Palace Museum in Taipei ran the world's first calligraphy VR (virtual reality) installation in the world.
Advent of Virtual Reality
Virtual reality, which still seemed a rather virtual form of reality just a few years ago, is slowly entering mainstream territory.  In an American survey, 92% of respondents were aware of the term "Virtual Reality".  According to statista, the number of active VR users is forecasted to reach 171 million by 2018.
In a nutshell, virtual reality technology allows you to strap on a headset and step into a visual fairytale.  While most envision virtual reality as entering a pre-made world, the technology to develop your own canvas already exists.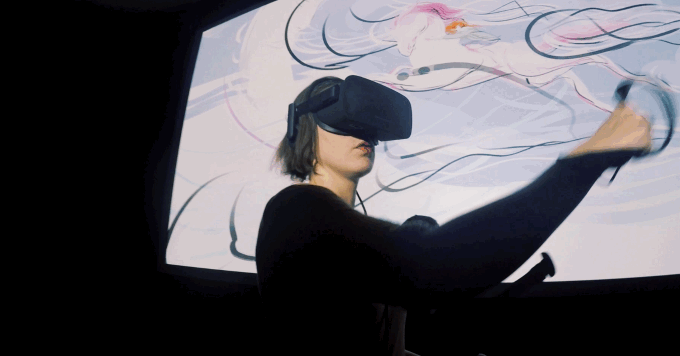 Tilt Brush is a VR painting app acquired by Google that won the Best VR experience in Unity Awards 2015.  Oculus Rift has also made a free VR painting tool that lets illustrators bring art to life around them.
Value of VR
Virtual reality is essentially the definition of engagement, bringing an art form like calligraphy squarely into the realm of experience, even for absolute beginners.  Calligraphy may take time to master before seeing visibly appealing results, but tracing is an act we've all been trained in since grade school.
VR as an educational tool has clear applications, already showing promise in archaeological and heritage preservation activities.  Edutainment broadens the reach of subjects that may not be adopted by users at first glance.
Chinese Calligraphy VR
The VR installation, titled "The Spirit of Autobiography" was inspired by the Tang Dynasty wild cursive script writing of monk Huai-su.  In the first scene of the exhibit, you see a Chinese pavilion with floating characters in the background.  After that you are "ushered" into a room with a giant chinese calligraphy brush, where your mission is to trace over the 3D script.
The exhibit is as brilliant as it is a breath of fresh air.